Transfers from Malaga Airport to Cancelada
At Estepona Transfer, we pride ourselves on our excellent customer service, resulting in many repeat customers and recommendations. We prioritize providing a reliable and hassle-free transfer experience for all our passengers. Have a question? Our dedicated team will respond within one hour. 
Book your transfer from Malaga Airport to Cancelada with us and enjoy a low-cost and convenient option for you, your family, and your friends. Let us organize a safe and reliable taxi ride from Malaga Airport to Cancelada, ensuring you start your holiday on the right note.
We understand that punctuality is crucial for our passengers, and that's why many customers return to us repeatedly. When you book in advance with Estepona Transfer, you can trust us to solve your travel problems. We don't charge any reservation fees – pay the agreed-upon fee to your driver in advance. It's as simple as that!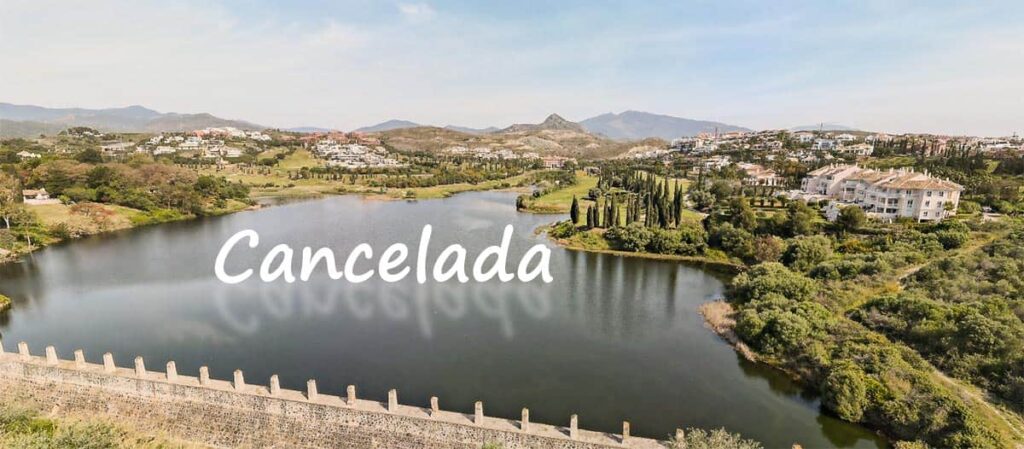 Introduction to Cancelada: The Charming Hamlet on the Costa del Sol
Cancelada is a small and lesser-known hamlet located in the province of Malaga, Andalusia, in southern Spain. It belongs to the municipality of Estepona and is situated on the beautiful Costa del Sol. Cancelada is experiencing continuous growth in houses, population, and economy.
One of the notable landmarks in Cancelada is the Purísimo Corazón de María Church, the only place in Spain where perpetual adoration occurs. Another characteristic feature of Cancelada is the arch located in the central square. The neighbourhood is also home to Ramón Lago Public School, serving children from Cancelada and the surrounding urban areas.
Cancelada celebrates two important events that bring together all its inhabitants:
The Pilgrimage of San Isidro Labrador is celebrated on May 1st.

The Fair is a four-day celebration held in August.
Must-Visit Monuments: Explore the Historical Sights
While in Cancelada, visit the ancient Taraje Aqueduct, dating back to the 19th century. It is located near the stream that feeds the artificial lake of Villa Padierna. On Saladillo Beach, you can find the Torre Vigía del Saladillo or Torre Lançe del Saladillo, an old 16th-century watchtower offering a glimpse into the region's history.
Savour the Gastronomic Delights: Experience the Local Cuisine
The gastronomy of Cancelada, much like the other Costa del Sol, showcases a delightful fusion of land and sea flavours. The typical dishes here incorporate fresh ingredients from the countryside and the sea.
One of the standout dishes from the land is "sopa campera" (peasant soup), a hearty and affordable dish made with ingredients commonly found in farmers' gardens, such as oil, tomato, pepper, onion, garlic, bread, egg, and salt.
Regarding seafood, the favourite choice in Cancelada is "espeto de sardinas" (sardine skewers). However, you can also enjoy fried fish dishes at local restaurants and beach bars with complete confidence in their quality.
Other traditional dishes worth trying include "Ajo Blanco" (garlic and almond soup), "Blanco" (white garlic soup), "gazpacho" (cold tomato soup), "gazpacho" (fish soup), "Sardinas a la Teja" (sardines cooked on a tile), "Pescado a la sal" (salt-baked fish), and octopus salad.
In recent years, Cancelada has seen the emergence of international cuisine, with many restaurants catering to diverse tastes and offering various culinary options.
Urbanizations, Villas, and Golf Clubs: Discover the Finer Aspects
Cancelada is home to some remarkable urbanizations and villas, offering beautiful surroundings and desirable living spaces. One such urbanization is Macdonald Villacana Resort, known for its picturesque gardens, cascading flowers, lemon trees, and charming fountains. The complex features impressive swimming pools and is a popular choice for couples and families, with world-class golf courses nearby.
The Viewpoint of Costalita is another closed urbanization boasting spacious 2 and 3-bedroom apartments with garages, storage rooms, and expansive terraces. Designed with avant-garde concepts and excellent finishes, these homes provide an ideal setting to enjoy the tranquil natural environment of the Costa del Sol throughout the year.
Cancelada is also known for its luxurious villas. It offers customization options, salt-chlorinated pools, UV-protected security glass, aerothermal air conditioning systems, and large sliding doors that seamlessly blend indoor and outdoor spaces. These smart homes prioritize maintenance efficiency and have minimal impact on the environment.
If you're a golf enthusiast, Cancelada won't disappoint. El Paraíso Golf Club, designed by Gary Player in 1973, offers a traditional and welcoming championship course against the stunning backdrop of La Concha mountain and the sparkling Mediterranean Sea. Flamingos Golf Club boasts an 18-hole par-71 course with breathtaking sea views and a meticulously maintained landscape. Finally, Alferini Golf Club is ideal for competitions and leisurely play, boasting 18 holes, stunning natural integration, and a commitment to environmental preservation.
Experience the charm, natural beauty, and culinary delights of Cancelada, and let Estepona Transfer ensure your seamless and comfortable journey from Malaga Airport to this captivating hamlet on the Costa del Sol. So book your transfer with us today and embark on a memorable vacation.