Taxi Benahavis service: Discover Benahavis in Comfort
Nestled in the picturesque landscapes of Costa del Sol in southern Spain, Benahavis stands as a hidden gem waiting to be discovered. This small town is also known for its past, beautiful views, and best delicious foods. It is the perfect place for peace of mind and get away from the busy city life. Whether you're a nature lover, a history enthusiast, or a food connoisseur, Benahavis has something to offer for everyone. 
And to make your exploration seamless and convenient, Estepona Transfers Taxi Benahavis service. Let's embark on a journey to unravel the charms of this captivating destination and learn more about the convenient transportation options available.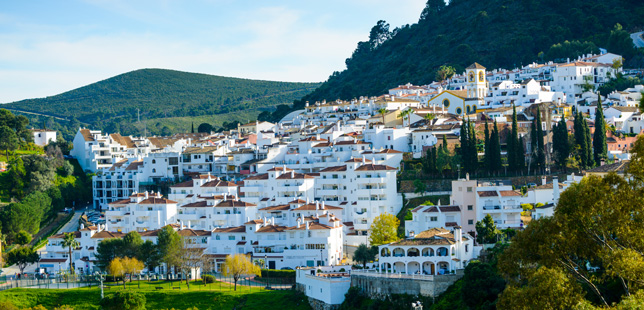 Estepo na Transfer'sTaxi Benahavis Service: Your Gateway to Hassle-Free Travel
Heading off to explore the wonders of Benahavis? Start your journey on the right foot by choosing Estepona Transfers as your preferred mode of transportation. With a fleet of properly maintained vehicles and experienced drivers, the firm makes sure that your trip is smooth and comfortable from the time you arrive. Whether you need a ride from Malaga airport, a tour or a ride for a town, Estepona Transfer is always ready for it.
The Benefits of Choosing Taxi for Benahavis
When you opt for Taxi for Benahavis, you unlock a world of advantages that enhance your travel experience. Here are a few key benefits:
Convenience

: Estepona Transfers offers door-to-door service, providing you with utmost convenience and saving you the hassle of navigating public transportation.

Reliability:

With a team of punctual and professional drivers, you can rely on Estepona Transfers to pick you up and drop you off at your desired locations on time.

Local Knowledge:

The experienced drivers of Estepona Transfer's  possess in-depth knowledge of the area, ensuring you reach your destinations quickly and efficiently.

Comfort:

Sit back, relax, and enjoy the scenic views of Benahavis in the comfort of a well-maintained taxi.
Exploring Benahavis: A Journey Through Time
As you step foot in Benahavis, you'll be greeted by a charming village steeped in history. Stroll through its cobblestone streets and immerse yourself in the rich cultural heritage that surrounds you. Here are some best places to visit, you must see to learn about the history of this beautiful place.
Castillo de Montemayor: Unveiling Ancient Legends
The imposing Castillo de Montemayor, a fortress perched atop a hill, offers breathtaking panoramic views of the village and the Guadalmina River. Explore the ruins of this ancient castle, which dates back to the 11th century, and let your imagination run wild with tales of knights and battles.
Church of San Pedro: A Glimpse into Religious Artistry
The Church of San Pedro, located in the heart of Benahavis, is a testament to the region's artistic heritage. Admire the intricate details of the church's architecture and step inside to witness the beautiful artwork that adorns its walls and altars.
Ethnographic Museum: A Window into the Past
At the Ethnographic Museum, you'll find a treasure trove of artifacts, photographs, and exhibits that beautifully showcase the heritage and customs of Benahavis. Immerse yourself in the stories of the village's rural past as you explore the carefully curated displays.
Los Arqueros Golf & Country Club: A Golfer's Paradise
For golf enthusiasts, a visit to the Los Arqueros Golf & Country Club is a must. Designed by the legendary golfer Seve Ballesteros, this picturesque golf course offers stunning views of the surrounding mountains and Mediterranean Sea. Test your skills on the challenging fairways and greens, or simply relax at the clubhouse and soak in the serene ambiance.
La Zagaleta: Luxury Living Amidst Natural Beauty
If you're seeking exclusivity and luxury, a trip to La Zagaleta is highly recommended. This prestigious private estate is renowned for its opulent villas, lush greenery, and top-notch amenities. Take a leisurely drive through the estate, marveling at the stunning residences and enjoying the tranquility of the surroundings.
Exploring Beyond the Village
While Benahavis itself is a captivating destination, the surrounding areas are equally enticing. Estepona Transfers Taxi Benahavis service offers the perfect means to explore these nearby attractions, ensuring you don't miss out on any of the natural beauty or cultural experiences the region has to offer. Here are some popular destinations that you can conveniently reach with us
Marbella: A Mediterranean Playground
Just a short drive away from Benahavis lies Marbella, a renowned Mediterranean resort town. With its glamorous marina, upscale boutiques, and vibrant nightlife, Marbella is a haven for those seeking a dose of luxury and excitement. Explore the old town's narrow streets, relax on the golden beaches, or indulge in a shopping spree at Puerto Banus – all easily accessible with Estepona Transfer's.
Puerto Banus: Where Glamour Meets the Sea
Located within Marbella, Puerto Banus is synonymous with glitz and glamour. This renowned marina attracts luxury yachts from around the world, and its promenade is lined with high-end designer stores and gourmet restaurants. Enjoy a leisurely stroll along the waterfront, admiring the luxurious boats and mingling with the jet-set crowd.
Ronda: A Breathtaking Cliffside Town
Venture a bit further from Benahavis, and you'll discover the awe-inspiring town of Ronda. Perched on a dramatic cliff, Ronda offers panoramic views of the El Tajo gorge and the stunning countryside. Explore the ancient bullring, visit the historic Puente Nuevo bridge, and wander through the charming streets lined with traditional Spanish houses.
Sierra de las Nieves Natural Park: Nature's Retreat
Escape into the embrace of nature at the Sierra de las Nieves Natural Park, a UNESCO Biosphere Reserve. This protected area boasts rugged mountains, dense forests, and an abundance of flora and fauna. Embark on a hiking adventure, breathe in the fresh mountain air, and marvel at the beauty of the park's landscapes.
So, the next time you land at Malaga Airport, consider choosing a taxi for a hassle-free and enjoyable journey. Contact us @+34644520950 today to learn more about our services and discounts.
FAQs About Taxi Benahavis
Q: How Can I Book A Taxi For Taxi Benahavis?
Booking a taxi for Taxi Benahavis is easy. You can either book online through our website or simply give them a call @+34644520950 to make a reservation.
Q: Are Estepona Transfers Drivers Fluent In English?
Yes, the drivers of Taxi Benahavis are well-versed in English, ensuring effective communication throughout your journey.
Q: Can I Book A Taxi For A Sightseeing Tour Of Benahavis?
Absolutely! Estepona Transfers Taxi Benahavis offers customizable sightseeing tours where you can explore the village's attractions at your own pace.