BOOK A TRANSFER TO CASARES FROM MALAGA AIRPORT
Arriving at your holiday destination brings with it a strong desire to swiftly locate your hotel, settle in, and begin enjoying your well-deserved getaway. At Estepona Transfer, we fully understand this eagerness, which is why our reliable and efficient transfers to Casares from Malaga Airport are designed to solve this problem for you seamlessly.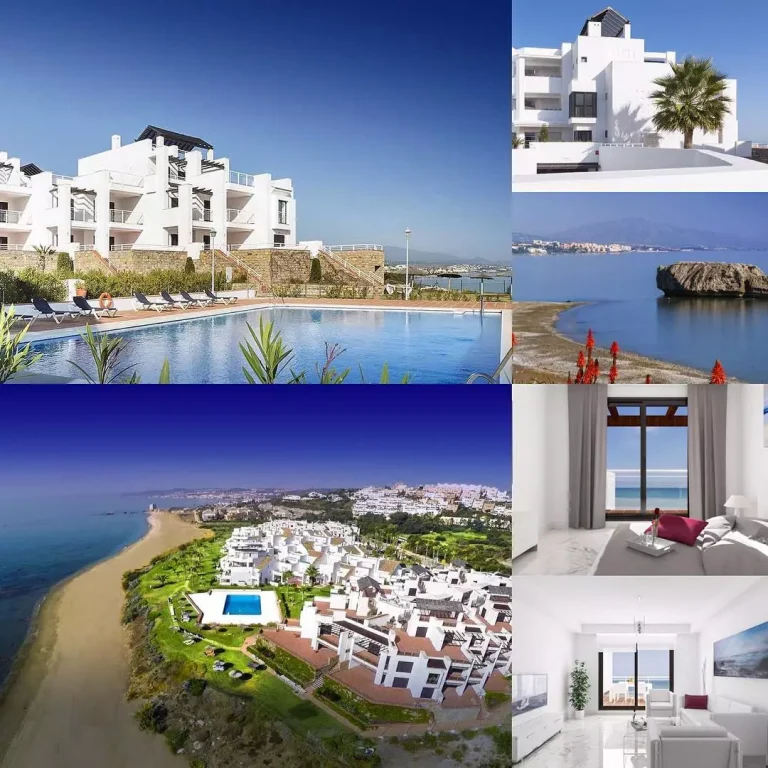 Discover Casares: Memorable Transfer from Malaga Airport
When you arrive for your transfer to Casares from Malaga Airport, you'll be welcomed by a town steeped in history and brimming with picturesque corners waiting to be discovered. Casares, influenced by the various cultures that have passed through Andalusia over the centuries, offers a unique perspective on its past. Let's delve into the fascinating history of this town and explore its enchanting streets.
In Roman times, Casares had its own coinage, evidence of the diverse cultural influences that shaped the region. One notable historical site is the Baños de la Hedionda, renowned for its sulphurous and alkaline waters. According to tradition, these baths were constructed by Julius Caesar himself, who sought healing from a skin disease and found relief in the therapeutic properties of Casares' waters.
The Castle, which bears the marks of Arab architecture, stands as a testament to the town's Moorish heritage. Surrounding the Castle are the ancient farmsteads that gave rise to the present-day urban nucleus of Casares. In 1361, the Pact of Casares was signed between Pedro El Cruel and Mohamed Quinto of Granada, leading to the integration of Casares into the Nazarí kingdom.
Following the capture of Ronda in 1485, Casares surrendered to the Catholic Monarchs and was granted lordship status under Rodrigo Ponce de León, the Duke of Cádiz. The castle ruins, dating back to the 13th century, overlook the town and are accompanied by the primitive parish of La Encarnación, which was constructed in the 16th century.
It was within these historic surroundings that the Duke of Arcos negotiated the surrender of the rebellious Moors. Casares played an active role in the mountain range uprisings, which were ultimately suppressed by Don Juan of Austria. The town became a significant location where the pact to end the revolts was signed between the Duke of Arcos and Moorish leaders.
In 1795, the town of Manilva was separated from Casares, gaining the privilege of Villa. During the Napoleonic invasion, Casares stood strong and was one of the only towns, alongside Cadiz, that successfully resisted the French troops.
Casares boasts an array of breathtaking landscapes, each with its unique charm. From the Torre de la Sal, where the waves of the Mediterranean can be admired, to the Sierra Crestellina with its mesmerizing trails, and the botanical treasures found in Sierra Bermeja or the caves of the Massif of Utrera – the natural beauty of Casares is unparalleled.
The town's urban layout showcases narrow, sloping streets that exude a distinct Moorish flavor. These streets hold intriguing stories, such as Callejón del Rey, where a Moorish king met his demise at the hands of his disgruntled subjects after years of humiliation. Other notable streets include Calle Villa, the former entrance to the walled Casares, and Calle Mazmorrilla, where captives endured the hardships of the dungeons.
To reach the castle ruins, which offer a magnificent viewpoint, one must venture along Arrabal Street, a challenging ascent due to its steep incline. Descending from the castle, visitors are greeted by Plaza de España, featuring a fountain built by Carlos Tercero.
Exploring the Enchanting Monuments of Casares
As you embark on your transfer to Casares from Malaga Airport, you may find yourself mesmerized by the thought of visiting the town's captivating monuments and museums during your holiday. Let's take a moment to discover some of the remarkable landmarks you should include in your itinerary.
Parish Church of La Encarnación:
Constructed in the 16th century atop a former mosque, the Parish Church of La Encarnación is often referred to as the Church of the Castle or the Church of the Plain due to its location in the Plain of the Fountain. The church features a bell tower with Mudéjar origins dating back to the 16th century. The church's backyard was once part of an old convent, but it suffered damage during the civil war and is currently undergoing restoration.
Chapel of Vera Cruz:
This 16th-century hermitage preserves only one of its naves, three walls, and remnants of the altar. During the civil war, it was a site where the bodies of enemies were sometimes thrown into the nearby ravine. Today, an iron cross stands as a reminder of its historical significance within the Castle's enclosure.
Church of San Sebastián:
Situated in the heart of the town's Plaza de España, the Church of San Sebastián is an 18th-century chapel. It houses the image of the patron saint, Our Lady of the Rosary. Its elegant architecture and central location make it a notable landmark to explore during your visit.
Chapel of Our Lady of the Rosary:
Every May, the people of Casares embark on a pilgrimage to the Chapel of Our Lady of the Rosary. Located between the Genal and Guadiaro rivers, this sacred site may occasionally become inaccessible during winters due to flooding from the Genal River. The chapel holds deep religious significance for the locals and offers a peaceful retreat for reflection and devotion.
Cemetery:
Situated within the Castle's enclosure, the cemetery of Casares stands out as a distinctive feature. Its circular shape seamlessly integrates with the surrounding topography. One unique aspect of the cemetery is the tradition of whitewashing the niches, showcasing the influence of popular culture and customs within the community.
In addition to the fascinating landmarks of Casares, when planning your transfer from Malaga Airport, consider Estepona Transfer as your reliable transportation service. Estepona Transfer offers a seamless and comfortable journey to Casares, ensuring your arrival and departure experiences are stress-free. With their experienced drivers and modern fleet of vehicles, you can trust Estepona Transfer to provide a reliable and efficient transfer service.
As you explore the rich history and monuments of Casares, let Estepona Transfer take care of your transportation needs, allowing you to fully immerse yourself in the charm and beauty of this remarkable Andalusian town.
Why Choose Estepona Transfer for Your Transfer to Casares from Malaga Airport
When it comes to ensuring a smooth and enjoyable journey from Malaga Airport to Casares, hiring Estepona Transfer is a decision that will elevate your travel experience. Here are some compelling reasons why you should choose Estepona Transfer for your transfer needs:
Reliable and Punctual Service:
Estepona Transfer takes pride in its reputation for reliability and punctuality. They understand the importance of timeliness, ensuring that their professional drivers are ready and waiting for you at Malaga Airport. You can trust that they will be there to greet you upon your arrival, allowing you to commence your journey to Casares promptly and hassle-free.
Comfortable and Well-Maintained Vehicles:
Estepona Transfer boasts a modern fleet of vehicles that are designed to provide utmost comfort during your transfer. Their vehicles are well-maintained, ensuring a smooth and pleasant ride from Malaga Airport to Casares. Whether you're traveling alone, with a group, or with excessive luggage, Estepona Transfer has the right vehicle to accommodate your specific needs.
Experienced and Professional Drivers:
The drivers at Estepona Transfer are highly experienced and possess extensive knowledge of the local area. They are well-trained in providing excellent customer service, ensuring that your transfer to Casares is not only safe and efficient but also informative. You can rely on their expertise to navigate the best routes, making your journey a seamless and enjoyable one.
Personalized and Tailored Service:
Estepona Transfer understands that every traveler is unique, and their dedicated team is committed to delivering a personalized and tailored service. They take into account your specific requirements and preferences, ensuring that your transfer experience is customized to meet your individual needs. Whether you have specific pickup or drop-off requests or require any additional assistance, Estepona Transfer is dedicated to providing a service that exceeds your expectations.
Competitive and Transparent Pricing:
Estepona Transfer offers competitive and transparent pricing for their transfer services. You can expect fair and reasonable rates without any hidden costs or surprises. Their pricing structure is designed to provide value for money, allowing you to enjoy a high-quality transfer experience to Casares without breaking the bank.
Choosing Estepona Transfer for your transfer to Casares from Malaga Airport offers numerous advantages. From their reliability and punctuality to their comfortable vehicles, experienced drivers, personalized service, and competitive pricing, Estepona Transfer is dedicated to ensuring that your journey is smooth, stress-free, and memorable. Sit back, relax, and let Estepona Transfer take care of your transportation needs, allowing you to fully enjoy your time in Casares from the moment you step off the plane.