TRANSFERS FROM MALAGA AIRPORT TO CASARES
Estepona Transfer is a reputable transfer service that thrives on client referrals and repeat business. Our consistent growth can be attributed to our unwavering commitment to delivering exceptional customer service. We guarantee prompt responses to all inquiries within one hour. Take advantage of our affordable Malaga Airport to Casares transfer services for you, your family, and your group of friends. Let Estepona Transfer coordinate a secure, reliable, and hassle-free taxi from Malaga Airport to Casares, ensuring a perfect start to your vacation.
At Estepona Transfer, we understand the importance of punctuality for our passengers. That's why our customers rely on us time and again for our unmatched reliability on the journey from Malaga Airport to Casares. By booking in advance, you can eliminate any travel concerns. Remember, we don't charge any reservation fees—simply pay the pre-agreed fare to your driver upon arrival.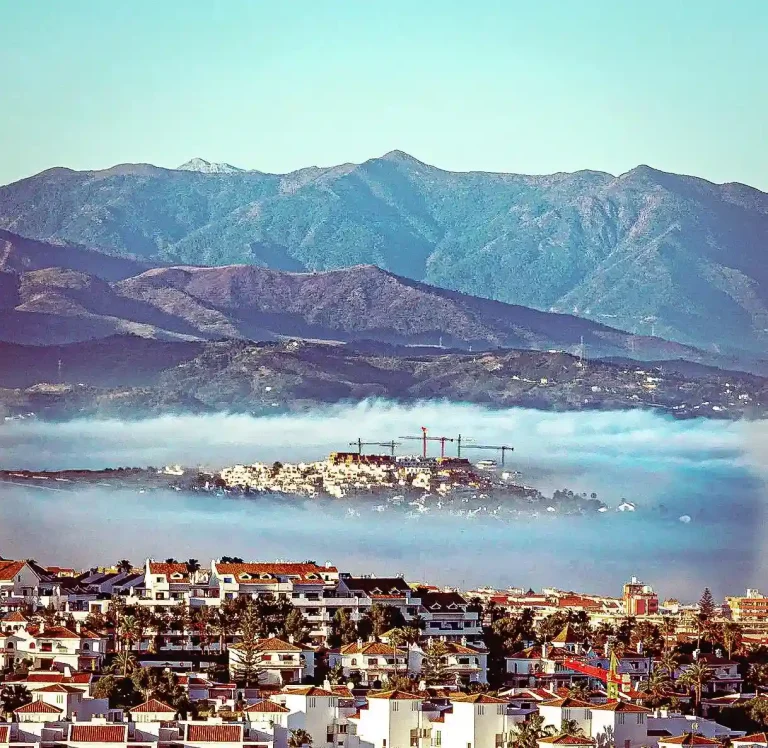 Casares: Where History, Nature, and Authenticity Converge
The town's historical significance is evident in its well-preserved architecture, ancient ruins, and fascinating stories that whisper through its narrow streets. Alongside the captivating history, Casares boasts breathtaking scenery, with rolling hills, rugged mountains, and picturesque views at every turn. 
Climate:
Casares boasts a distinct climate characterized by mild winters with concentrated rainfall and hot, dry summers. Located within a Mediterranean climate region, the municipality benefits from its higher altitude, which moderates temperatures and increases rainfall.
Rainfall and average temperatures throughout the year are as follows:
Average annual rainfall: 868.0mm

Maximum average maximum temperature: 33.7ºC

Average temperature: 15ºC

Average minimum temperature: 8ºC
The climate in Casares is influenced by factors such as altitude, proximity to the sea, and the nearby Strait of Gibraltar. The town enjoys approximately 2,800 hours of sunshine annually. Additionally, Casares has its own weather station situated on the terrace of the Town Hall, measuring temperature, humidity, atmospheric pressure, wind speed, and rainfall accumulation.
Finca Cortesín:
Finca Cortesín is a distinctive hotel inspired by traditional Andalusian architecture. It offers impeccable service, exquisite gastronomy, and a serene ambiance. The hotel showcases two grand courtyards and features 67 spacious and luminous suites, ranging from 50 to 200m².
The hotel boasts 23,000 square meters of breathtaking gardens and a 2,200-square-meter spa dedicated to oriental treatments. It also offers a Beach Club, four swimming pools, and tennis and paddle courts. The Beach Club, located just over a kilometer from the hotel, spans an impressive 6,000 square meters and features magnificent gardens, wooden floors, hammocks, Balinese beds, and a 35-meter swimming pool.
Estepona Transfer is proud to recommend the following restaurants within Finca Cortesín:
El Jardín de Lutz:

This restaurant provides a relaxed and elegant atmosphere, serving traditional Spanish cuisine. Enjoy the spectacular terrace with sea views and a garden adorned with centuries-old olive trees.

Kabuki Raw

: As the hotel's gastronomic restaurant, Kabuki Raw offers a menu that combines authentic Japanese cuisine with Mediterranean influences.

Don Giovanni:

Awarded 2 Suns in the Repsol Guide and recognized as the best Italian restaurant in Madrid, Don Giovanni brings the authentic flavors of Italian cuisine to Finca Cortesín, thanks to Sicilian chef Andrea Tumbarello.
Estepona Transfer: Your seamless and enjoyable choice.
Estepona Transfer is the trusted name when it comes to reliable transportation services in the region. Our commitment to excellence ensures that your journey from Malaga Airport to Casares is smooth and stress-free. With our professional drivers and well-maintained vehicles, you can rest assured that you'll arrive at your destination safely and comfortably.
We understand that each customer has unique needs and preferences. That's why Estepona Transfer offers a range of vehicle options to cater to your specific requirements. Whether you're traveling alone, with your family, or in a group of friends, we have the perfect vehicle to accommodate you. Our fleet includes spacious sedans, minivans, and even luxury vehicles, providing you with a personalized and comfortable travel experience.
Booking Process
Booking your transfer with Estepona Transfer is quick and easy. Simply visit our website or give us a call at +34644520950 to make your reservation in advance. We don't charge any reservation fees, and the fare will be agreed upon in advance, so there are no surprises. Our transparent pricing policy ensures that you receive great value for your money.
Why Choose Estepona Transfer ?
When you choose Estepona Transfer, you're not just getting a transportation service, but a team of dedicated professionals who are committed to making your journey memorable. We prioritize punctuality and strive to be there for you right on time. You can rely on us to pick you up promptly from Malaga Airport and ensure a timely arrival at your final accommodation in Casares.
During your transfer, our knowledgeable drivers can provide you with information and recommendations about the area. Feel free to ask any questions you may have, and we'll be happy to assist you. We believe in going the extra mile to exceed your expectations and make your experience with Estepona Transfer truly exceptional.
Start your vacation in Casares with peace of mind, knowing that Estepona Transfer has taken care of your transportation needs. Sit back, relax, and enjoy the scenic journey from Malaga Airport to your final destination. Trust us to deliver a high-quality transfer service that combines professionalism, reliability, and affordability.