Transfers from Malaga Airport to Duquesa
Welcome to Estepona Transfer, your trusted partner for transfers from Malaga Airport to Duquesa. We know how important it is to be on time and work hard to give great customer service so that you and your family can have a smooth and fun trip. With our reliable and hassle-free taxi services, you can start your vacation as best as possible.
Why Choose Estepona Transfer For Duquesa?
At Estepona Transfer, we take pride in our high percentage of repeat customers and recommendations. We've grown by delivering exceptional service. We appreciate your time and will address all your inquiries within an hour.
Our Malaga Transfers are of the finest value.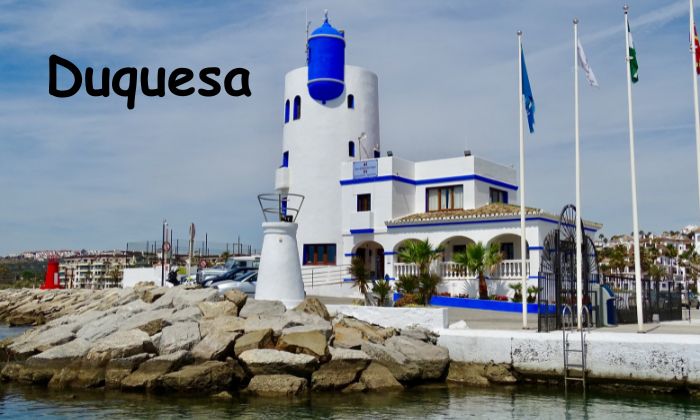 Discover Puerto de la Duquesa: A Haven of Peace and Elegance
Puerto de la Duquesa is a charming Mediterranean port with style and elegance. Nestled between Sotogrande and Marbella, it offers a tranquil atmosphere of peace and familiarity. The port boasts a complete dry dock, providing maintenance and repair services for boats and a designated area for hibernation.
Puerto de la Duquesa has a lot of natural beauty, and it also has a lot of places that serve a wide range of delicious food. So whether you seek a relaxing beach holiday or a cultural exploration, this picturesque destination has something for everyone.
Marina: The Gem of Costa del Sol
The Marina at Puerto de la Duquesa is a true gem on the Costa del Sol. It is one of the best places because the water is calm and nice all year. Boasting 328 moorings ranging from 8 to 20 meters in length, the marina offers ample space to accommodate various types of boats. Additionally, its dry dock features a lifting gantry with a capacity of 70 Tm, ensuring excellent service for boat owners.
The Vibrant Tourist Area and the Charms of Manilva
As the centre of tourist activity in the area, Puerto de la Duquesa is surrounded by cosy hotels and urbanization that beckon you to experience a wonderful beach holiday under the Mediterranean sun. The harmonious blend of Mediterranean light and pleasure boats creates a peaceful ambience that will captivate your senses. Take advantage of the opportunity to savour the freshest seafood caught daily, providing a true taste of the region.
Adjacent to Puerto de la Duquesa lies the town of Manilva, the westernmost municipality in the province of Malaga. Once predominantly reliant on agriculture and fishing, Manilva has seen a significant rise in tourism, attracting visitors with its beautiful golf courses, stunning beaches, and rich cultural heritage. Explore the remnants of ancient civilizations and indulge in the diverse gastronomic offerings, showcasing the variety of fish that enriches the local cuisine.
Climate and Weather: A Perfect Blend of Mediterranean Delight
From Malaga Airport to Duquesa, the weather is usually mild all year, but there are different rainy seasons. Situated on the border between Europe and Africa, the region experiences a blend of characteristics from both continents. Spring and autumn can bring hot and cooler days, with irregular rainfall. Winters are mild, while summers are typically dry with rare rain showers. Rest assured that the weather will not pose a concern during your visit to this enchanting destination.
Beaches, Marina, and Beyond Embrace the Beauty of the Costa del Sol
As you travel along the A7 road parallel to the coast, you will be treated to breathtaking views of the sea and the stunning beaches that line the Costa del Sol. The beaches in the Duquesa area are known for their cleanliness and charm, offering visitors a place to relax, soak up the sun, and enjoy various water activities.
Puerto de la Duquesa boasts a beautiful beach with soft golden sand, where you can lounge under the warm Mediterranean sun and take refreshing dips in crystal-clear waters. In addition, the beach has a lot of amenities, like beach bars and restaurants, which make it a handy and fun place to spend your days.
Aside from the beaches, Puerto de la Duquesa has a lot of things to do for tourists.

Walk slowly along the marina walkway, lined with palm trees and bright flowers, and look at the beautiful yachts and boats.

Explore the town's lovely streets, full of shops, boutiques, and cosy cafes that are great for a shopping spree or a quiet afternoon.
Explore the Surrounding Area: Cultural Delights and Natural Beauty
Venturing beyond Puerto de la Duquesa, you'll discover a wealth of cultural delights and natural beauty in the surrounding area. First, visit the nearby town of Manilva, where you can explore its historic centre and visit landmarks such as the 18th-century San Luis de Sabinillas Church. Then, experience the rich history and heritage of the region by visiting the archaeological site of the Roman Baths of Manilva, offering a glimpse into the past.
Nature enthusiasts will be delighted by Duquesa's proximity to Andalusia's stunning natural landscapes. Just a short drive away, you can visit the picturesque village of Casares, perched on a hillside and offering panoramic countryside views. Embark on hiking trails in the Sierra Bermeja mountains, or drive along the coastline to discover hidden coves and secluded beaches.
Reliable and Convenient Transfers
Estepona Transfer provides reliable and convenient transfer services to ensure a seamless and stress-free journey from Malaga Airport to Duquesa. Our experienced drivers will meet you at the airport and handle your transportation needs, ensuring a comfortable and efficient transfer to your destination.
We offer a range of vehicle options to accommodate different group sizes and preferences. So whether you're travelling solo, with your family, or in a larger group, we have the perfect vehicle to cater to your needs. Our fleet consists of modern and well-maintained vehicles equipped with air conditioning and ample space for luggage, ensuring a comfortable ride.
Start your vacation in Puerto de la Duquesa on the right foot with Estepona Transfer. Our reliable and hassle-free transfer services from Malaga Airport to Duquesa will ensure that you arrive at your destination safely and comfortably. So book your transfer today, and let us take care of your transportation needs, so you can focus on enjoying all that this beautiful destination offers.